创新部长和市长参观邦奇动力公司: 关于提升创新能力的对话
On August 16th, Punch Powertrain was proud to welcome Flanders' Minister of Economy and Innovation Mr. Jo Brouns and Mayor of Sint-Truiden Ms. Ingrid Kempeneers in its headquarters in Sint-Truiden for an engaging conversation about the future of electrified automotive industry in Flanders. Hosting the meeting was Sébastien Mazoyer, Punch Powertrain CEO, alongside Gaspar Gascon, CTO, Yves Frenay, CHRO and several IP and R&D leaders.
The goal of the visit for both parties was to open a dialogue on how government and private sector can work together to foster a strong automotive ecosystem for the region. The discussion was preceded by an introduction of the company, showcasing Punch Powertrain's unique technology and facilities, as well as a test drive with a vehicle featuring the company's class leading hybrid dual clutch transmission.
Industry shift to electrification
The automotive industry is going through a major shift towards electrification, with the intermediate step of hybrid technology. Holding the highest number of patents in Belgium among automotive suppliers in 2022, Punch Powertrain is well placed and happy to answer enquiries of the government on how to continue and ensure the high innovation rate, helping them gain an understanding of the sector's challenges and opportunities in the region.
In such dynamic times, innovation is crucial to any company and region to maintain or grow their position, by operating in an advanced ecosystem with other companies, education institutions and governmental organizations. A close connection and communication line between private and public sectors are key to success.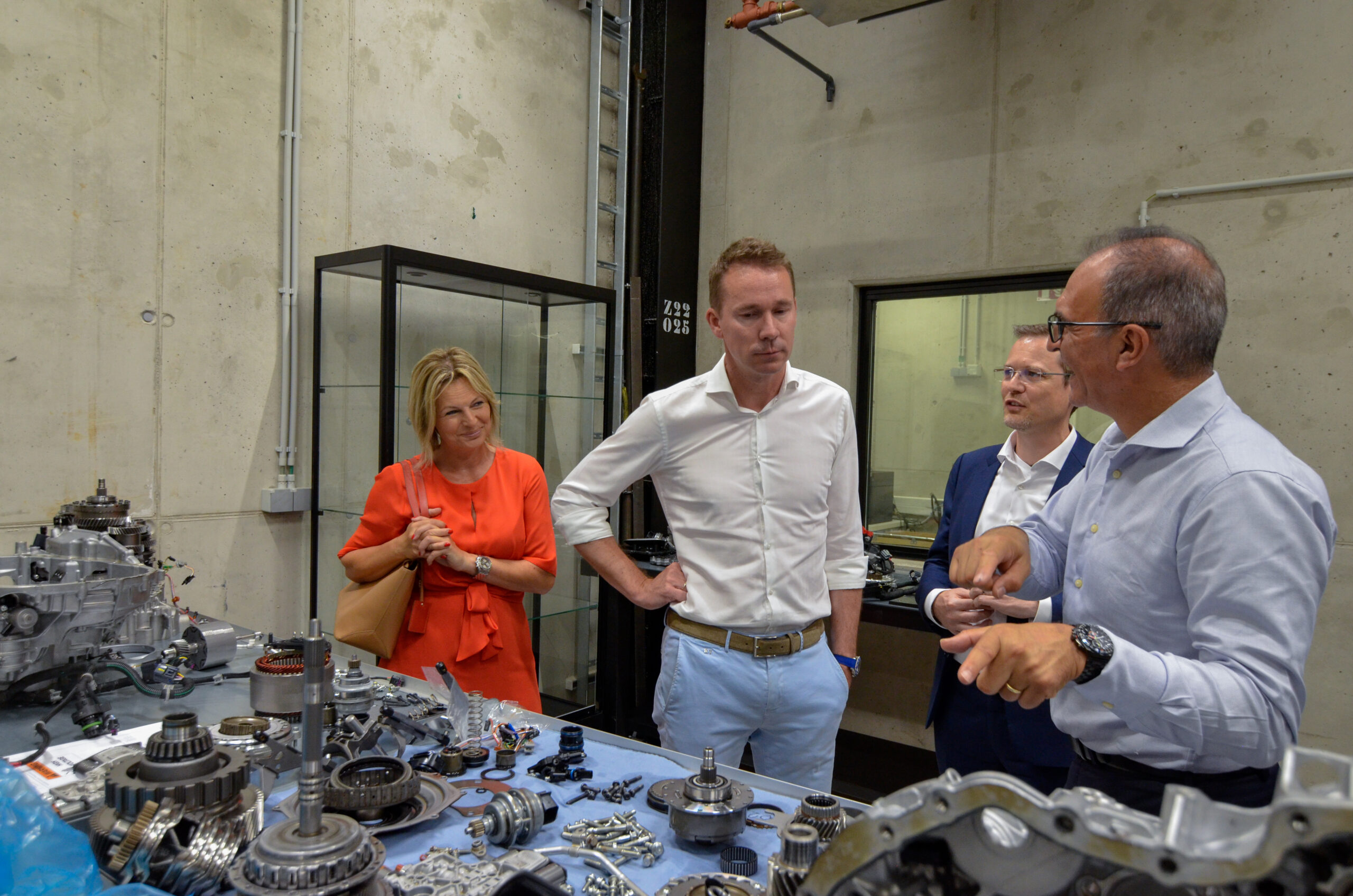 Highly-skilled ecosystem approach
Technology disruption we see today demands companies to rethink their development approaches and business models at global scale. While the conventional industry relies on a higher number of low-skilled workers,  the electrified automotive industry requires a lower number of highly specialized and educated people, both in development and in production.
Companies therefore increasingly need to rely on high-grade experts, needing to upskill and re-skill their work force, at the same time joining forces and creating an ecosystem with other expert companies. Building and nurturing such ecosystem and intensive upskilling programs is key for any region to succeed and maintain its innovation power in the current highly competitive global environment.
Innovation climate in Flanders
Government bodies play a major role in boosting innovation, through different instruments, such as professional associations, policies and regulations, subsidy schemes, education programs, etc. In this regard Punch Powertrain, as representative of its local ecosystem, and the minister and mayor open the dialogue on how to remain and become more competitive and to create a thriving, united automotive sector. Together with Mr. Brouns and Ms. Kempeneers, the company hopes to develop a working relationship built on trust, that will prove to be fruitful for the Belgian automotive sector.
During their visit both the minister and the mayor commended Punch Powertrain's remarkable innovation power and technology leadership within the region's automotive sector. Highlighting the company's profound know-how and advanced facilities, the Minister affirmed full support from his administration to elevate Punch Powertrain's growth ambitions.
As a Belgian company at heart, Punch Powertrain firmly believes that the already present synergy between local companies in the automotive industry can and should be fostered with the help of our governments, anchoring our strategic and technologic advantage. Looking forward, we dare to look towards our neighbours in the North and envision Flanders' own automotive campus in Sint-Truiden.