Punch Powertrain & Stellantis JVs start large scale serial production of novel hybrid eDCT
May 3rd, 2023, Sint-Truiden: Punch Powertrain and Stellantis commence large scale serial production of the unique and highly anticipated eDCT/DT2 transmission. The manufacturing starts within the scope of the companies' 2 joint-ventures: 'e-Transmissions' and 'e-Transmissions Assembly'.
Building on 50 year of expertise in transmission systems, Punch Powertrain has achieved a significant transformation, reorienting towards production of hybrid and electric systems. The shift enables the company to contribute to the sustainability of the automotive market in Europe, with reduced carbon footprint. 
Today marks the official opening of the DT2 manufacturing lines in Sint-Truiden, charged with large scale manufacturing of DT2 key components and sub-systems. This milestone coincides with the capacity increase of the transmission assembly  in Metz, marked on April 27th, in presence of Stellantis CEO, Carlos Tavares. Following a ramp-up phase and ongoing capacity increase, in 2024 the Sint-Truiden site will be equipped to manufacture 600.000 sets of key components for its assembly affiliate in Metz, France, and additional 600.000 key component sets for assembly in Mirafiori (Turin), Italy.  
To produce the necessary Stellantis volumes, extensive investment has been made by both joint-venture partners, among others in the installation of state-of-the-art equipment and processes. As the growth spurt is now set in motion, both the Sint-Truiden and Metz plant will benefit from ongoing investments in innovation and training, as well as from upcoming recruitment to expand the workforce towards ramp-up.
In preparation of this milestone, earlier this year the Sint-Truiden site has started hiring activities to attract additional 100 technically skilled production work force. By 2025, over 250 new employees will have joined the local production team. The raise in the workforce is further complemented with investment in training programs for both new and incumbent employees. Within 2023 over 6.000 hours of training will be attended by over 500 people in Sint-Truiden, enabling them to upskill and join the new technology economy.
"We are excited to kick-off the serial production of our flagship hybrid transmission" says Jorge Solis, CEO of Punch Powertrain. "Our patented technology enables us to bring sustainable technologies to global markets at affordable cost, taking a leap in the direction of our vision 'Our Powertrains drive a sustainable world'. We are utmost proud to collaborate with Stellantis on this major project and to be one of the main contributors to CO2 reduction in the vehicles we will equip."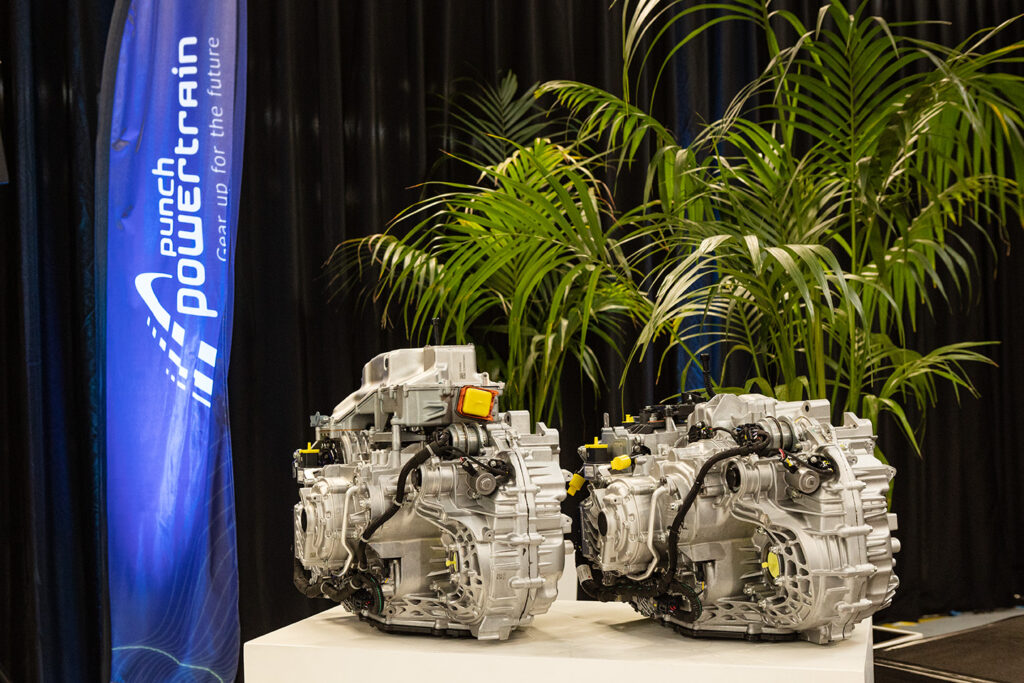 "The production launch we mark today is the result of exemplary team work of passionate experts across locations, including Research & Development in Eindhoven and Sint-Truiden, as well as production in Sint-Truiden and Metz" states Michel Becker, CEO of Punch Powertrain PSA e-Transmissions. "Furthermore, we are utmost grateful for the strong collaboration within our intricate supply chain and the unwavering support of the local and national authorities, all of which contributed to our success. We look forward to ramping-up the production to full capacity in the next year, bringing a robust and highly compact transmission to our roads."
The DT2 hybrid transmission is one of the most significant technologies to be realized by Punch Powertrain. Alongside Punch Powertrain's EV product suite, it demonstrates the company's transition from conventional (CVTs) to electrified and electric transmission systems, and an important step forward in green technology deployable at scale. This hybrid dual clutch transmission also signifies growth in European and global markets for the company, as with DT2 it is poised to become the largest Tier 1 supplier of hybrid DCTs worldwide by 2025.
As recently announced by Stellantis, the CO2 emissions reducing 48V variant of the eDCT will be offered within a few weeks on the Peugeot 3008 and 5008, before gradually being fitted to other Stellantis brand vehicles in Europe.